ALL ABOUT VINYL
Discover the perfect vinyl flooring solutions for your home at Flooring Express in Lafayette, IN.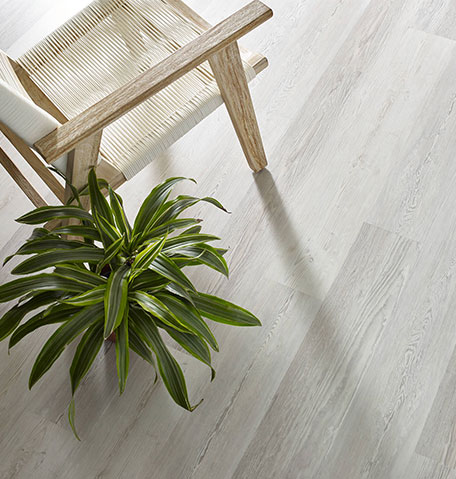 Practical, Waterproof Vinyl Flooring
Explore Vinyl Flooring in Lafayette, IN
At Flooring Express, we proudly offer practical and waterproof vinyl flooring solutions perfect for today's busy lifestyles. Our vinyl flooring collection combines durability, style, and affordability, making it an excellent choice for any room in your home. With its waterproof properties, it's ideal for areas prone to moisture, such as kitchens and bathrooms. Whether you're looking for a sleek modern design or a classic aesthetic, our vinyl flooring options will complement a wide range of interior design styles. Made to mimic natural flooring — including wood, stone, and tile — vinyl flooring offers an affordable and low-maintenance alternative to other flooring types. Its cost-effectiveness and straightforward installation make it a practical choice for homeowners. No matter your style or lifestyle needs, we carry vinyl flooring options that will transform your space and remain beautiful for years.
We proudly serve Lafayette, IN, and surrounding areas, including West Lafayette, Frankfort, Monticello, and Crawfordsville, IN.
Explore Our Diverse Range of Vinyl Styles
Types Of vinyl
At Flooring Express, we offer a diverse range of vinyl flooring options, each tailored to meet specific preferences and lifestyles:
Luxury Vinyl Plank (LVP) is a popular choice that mimics the look and texture of hardwood, offering a realistic wood-grain appearance.
Designed to replicate the elegance of natural stone and ceramic tiles, Luxury Vinyl Tile (LVT) provides a sophisticated and durable flooring option.
Available in various styles, including wood, tile, and decorative patterns, sheet vinyl has the advantage of seamless installation.
Waterproof vinyl is perfect for areas prone to moisture, such as kitchens and bathrooms, and it offers protection against spills and humidity.
Known for its exceptional durability and stability, rigid-core vinyl is suitable for high-traffic areas in your home.
These vinyl flooring types come with unique features and advantages, ensuring you find the perfect solution to enhance your space's aesthetics and functionality.